Audit & Advising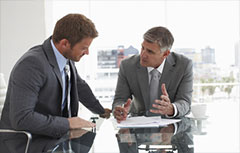 As an independent consulting company and thanks to professional experienced of his senior consultants, GCG leads customized audit and advising missions close to his customers with discretion.
Operation and business assessment (Governmental services, large companies, SME), in the framework of progress plan, restructuring, taking over or transfer: existing analysis (organisation, operation, appropriateness of means, skills and process, relation between actors…), optimization solutions, recommendation and deployment of progress plan
Project assessment (contracting Authority or Prime Contractor): Context analysis (organisation, means, technical, commitments, finance, management, reporting, relation between actors…), objectives/results assessment, strategic recommendation, deployment of improvement actions plan.
Security audit (Government, Public Agencies, Local Authorities, critical infrastructures): Current statement, statistics, threats assessment, security SOWT and vulnerability analysis, risks analysis, recommendation of technico economical solutions and deployment of improvement action plan.
php // get_sidebar(); // sidebar 1 ?>